Transforms your SIM into a Nano SIM or Micro SIM...
Simple high-precision SIM card cutting... Don't want to cut your SIM cards yourself? Now you can let our new CUTTER do the work.
The all in one CUTTER makes trimming the excess plastic off your SIM cards simple and easy. Simply insert your standard-sized SIM card into the cutting tool and press down, to transform your SIM into either a Micro or a Nano SIM. You can also use the tool to convert Micro SIMs into Nano SIMs.
What's included?
ALL-IN-ONE Cutting tool
Transform your SIMs into Nano SIMs or Micro SIMs
High-precision cutting for the perfect size
Use with our MAGICSIM ELITE - CUT adapter and many other MAGICSIM products
Designed for MAGICSIM adapters
The CUTTER is designed to help you create perfect Nano SIMs and Micro SIMs to fit a range of MAGICSIM products, such as our ELITE CUT, ELITE GALAXY S3, ELITE MICRO SIM, and ELITE iPHONE 4/4S adapters.
See our Special Offers section for special package deals offering the MAGICSIM CUTTER together with an adapter at a discounted price, such as our ELITE CUT + CUTTER package.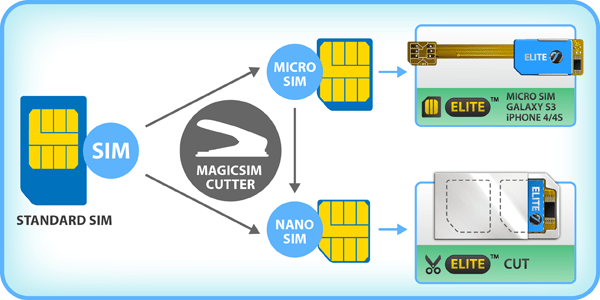 Full Specification
MAGICSIM - Cutter Specification
Lightweight and extremely durable
Official Noosy product
Converts your standard SIM card to Nano SIM size
Converts your standard SIM card to Micro SIM size
Converts your Micro SIM card to Nano SIM size
Made from stainless steel
High precision cutter
Use alongside the MAGICSIM Elite CUT and other adapters
Full 1 year product warranty
Product Manual
MAGICSIM - Cutter - Manual