Want to use 2 SIMs in your smartphone?
Now you can, with a MAGICSIM ELITE Dual SIM adapter. MAGICSIM is the perfect solution for business people, travellers, commuters, or anyone who uses more than one SIM card or phone number.
Our Dual SIM adapter allows you to switch between your SIMs in two easy clicks through your phone's existing menu. No more lengthy SIM swaps, no more international roaming, no more hassle.
What's included?
Dual SIM Adapter + CUTTER package
Specifically developed for the latest Smartphones
New ELITE chip for even quicker switching. The VERY LATEST Dual SIM technology
View the video demo
Designed for MAGICSIM adapters
The CUTTER is designed to help you create perfect Nano SIMs and Micro SIMs to fit a range of MAGICSIM products, such as our ELITE CUT, ELITE GALAXY S3, ELITE MICRO SIM, and ELITE iPHONE 4/4S adapters.
See our Special Offers section for special package deals offering the MAGICSIM CUTTER together with an adapter at a discounted price, such as our ELITE CUT + CUTTER package.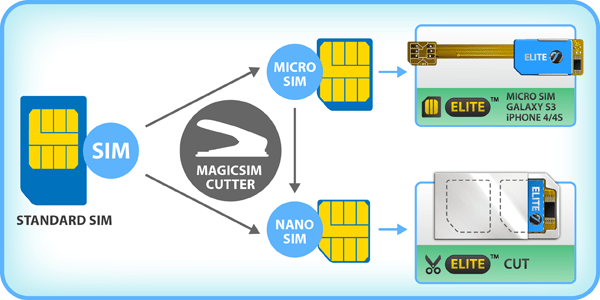 Full Specification
MAGICSIM Elite -Cut + Cutter package Specification
NEW Elite model developed for the latest Smartphones
Uses our newly developed Ultra Slim, Ultra Quick ELITE chip
Includes MAGICSIM CUTTER
Supports all SIM cards (SIM and USIM) including the Three Network
Supports all latest (and previous) OS and Android firmware versions
STK and 007 (quick switch) mode
Autoswitch option for timed SIM switching
Multi-language menu: English, Espanol, Italiano, Deutsch
Full internet access, video calls, etc.
No affect on battery consumption
Supports UMTS network
Supports 4G network
Supports LTE network
Supports 3G network
Supports GSM network
Supports GPRS network
Supports HSDPA network
Supports EDGE network
Supports CDMA network
Supports WCDMA network
1 year product warranty
Product Manual
MAGICSIM Elite -Cut + Cutter package - Manual