Want to use 2 SIMs in 1 phone?
Now you can, with a MAGICSIM Dual SIM adapter. MAGICSIM is the perfect solution for businessmen, travellers, commuters or anyone who uses more than one SIM card or phone number.
Our Dual SIM adapter allows you to switch between SIMs in two clicks through your phone's existing menu. No more lengthy SIM swaps, no more international roaming, no more hassle.
What's included?
Use 2 SIM cards in 1 phone/smartphone
Guaranteed connection to 3G, GSM, GPRS, EDGE, CDMA, UMTS, WCDMA, HSDPA
NO CUT. Ultra-slim chip for fast switching
View the video demo
Latest Technology
The MAGICSIM 28th GENERATION PLUS is an advanced adapter built using the latest Dual SIM technology. Its new ultra-slim chip with optimized processes makes it the top quality choice for almost all 3G smart phones and 2G phones. It offers more features, enhanced performance, and greater compatibility than previous models, and supports all latest OS systems.
No Cut Model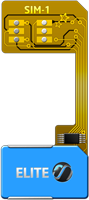 The NO CUT model offers the quickest and easiest possible installation, requiring no modification to your SIM cards. Your SIMs simply fit into the adaptor, which fits inside your phone. See the manual for full installation details.

All MAGICSIM adapters are simple to install and use, and come with full multi-language product support. We offer a full installation guide and videos showing how to install and use your adapter.
Full Specification
28th GEN + PLUS (3G/2G) - NO CUT Model Specification
Supports all SIM cards (SIM and USIM) including the Three Network
Supports all latest OS and Android firmwares (including ICS Jelly Bean, Gingerbread, Windows, Linux, etc.)
STK and 007 (quick switch) mode
Autoswitch option for timed SIM switching
Multi-language menu: English, Espanol, Italiano, Deutsch
Full internet access, video calls, etc.
No affect on battery consumption
Supports UMTS network
Supports 4G network
Supports LTE network
Supports 3G network
Supports GSM network
Supports GPRS network
Supports HSDPA network
Supports EDGE network
Supports CDMA network
Supports WCDMA network
90 day product warranty
Product Manual
28th GEN + PLUS (3G/2G) - NO CUT Model - Manual